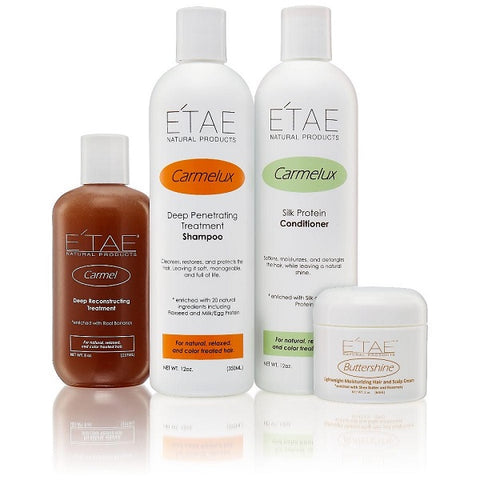 ETAE Natural Products - Ultimate Bundle
$ 6599

$ 65.99

$ 7999

$ 79.99

Save $ 14
---
---
natural hair care line that's made with over 20 high-grade natural ingredients. 
The products were formulated with a sole purpose of beautifying and promoting healthier, stronger, and more manageable hair. 
Every natural ingredient serves a significant purpose that will make a difference in all hair types and textures. 
Once you begin using E'TAE Products, and eliminating harsh chemically based products, you will notice a significant improvement in your hair's texture and condition.


ULTIMATE BUNDLE:
CARMELUX- Deep Treatment Shampoo 12oz.
CARMELUX- Silk Protein Conditioner 12oz.
CARMEL Deep Reconstructing Treatment 8oz.
Buttershine Moisturizer 2oz.
 
---
We Also Recommend
---